Portuguese Properties
Spring 2009
from RainbowTrading Association for "Living Lightly on the Land"











"Living Lightly on
the Land"
Examples of Land and Properties
- suitable for Sustainable Living, Permaculture and Eco-Tourism.

Contact us for more details.

ecolife@rainbow
tradingpost.co.uk

*Arrange your visit to view
* Full-Support for
purchasing, plus local help.

Solar & Renewable Energy
Kits and Installations.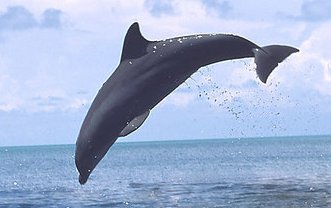 re-awaken the body's natural healing power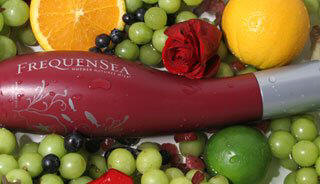 Have fun, make money and make a difference.
Do you like to be around positive, uplifting people and want to attract more of what you want in life and like helping people?


Back to Index Page
Cottage - St.Teotonio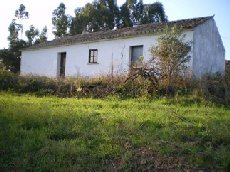 "St.Teotonio" - Country cottage of 100m2 offering habitable accommodation and fine land – an ideal opportunity for renovation at a good price. Viability for additional 100m of construction of old ruin.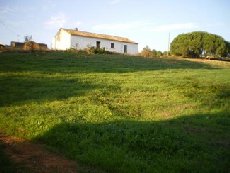 <more photos on request>
Viability for additional 100m of construction of old ruin. The land area is 17,000m2. Located with 10 mins drive to town of St.Teotónio. Company electricity is available.
Price:- €120,000 Euros
Apartment - Milfontes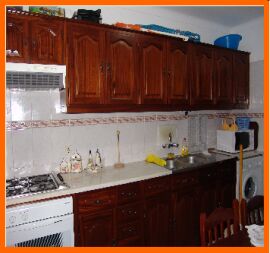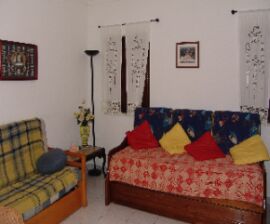 Apartment - with living room + bathroom.
Kitchen equipped with cooker, extractor fan, laundry. Shared common garden. Close to the beach by the river estuary and sea in the delightful town of VN Milfontes.
Apartments in Vila Nova Milfontes
More properties available in this delightful town situated on Mira river estuary, Portugal's West Atlantic coast.
Please enquire for details
Casa at Panoias
<Photos on request>
"Casa at Panoias" - Set in the centre of the village of Panoias 5 km from the Barragem Monte de Rocha. Two houses into one with the possibility of making into a large family home. The surrounding area has been designated for tourism projects. This property has electricity, water and sewage disposal. The building is approximately 50 years old. Faro 115 km and Lisbon 180 km.
Price:- € 105,000 Euros

Casa Nova da Cruz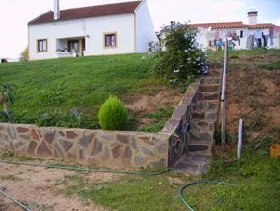 "Casa Nova da Cruz" - Country house of 160m2 with 5,000m2 land. The town of S.Teotónio is within 6 km and 12km to the beaches of Zambujeira do Mar and the Costa-Alentejana.
Three large bedrooms, living room, kitchen and large bathroom and annexe room. Mains services are provided. Additional small ruin that could be rebuilt. Situated on pleasant land easily maintained with some fruit trees.
Price:- € 125,000 Euros
Monte - St.Luis
"Monte - St.Luis" - Traditional 'taipa' earth-built house for renovation. 70 m2 built area with 1.25 hectares fine land. Some cork trees. Water and electricity provided. Good access. Within walking distance of St. Luis Village, a short drive to Cercal town and the West coast.
Price:- € 125,000 Euros
Casa Celeiro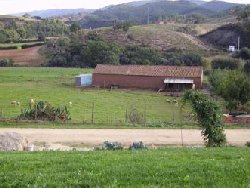 "Casa Celeiro" - Large Barn house for convertion, part traditional taipa (rammed earth) part brick construction. Total covered area of 180m2. Ideal for Rural Tourism Project?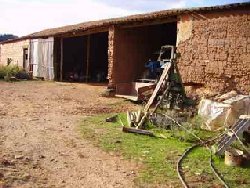 Two hctrs of excellent cultiv atable land with 20 apple trees, large well and year round stream - situated in large surrounding otherwise unspoilt valley. Aqua duct carrying water from St.Clara in photo background. Village of Casa Nove da Cruz 10min and St.Teotonio town 15min drive. Ideal for large family or shared conversion.
Price:- €125,000 Euros
Monte - Amoreiras Gare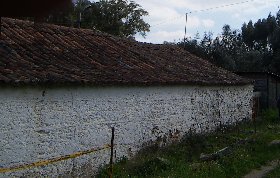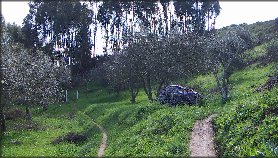 "Monte - Aoreiras Gare" Traditional stone and earth built cottage, 90m2 with 6 divisions on just under 1hct land. Electricity and water services provided and a well. There are 45 olive trees
and a small river through the land, ideal irrigation. Good access.
Price:- € 65,000 Euros